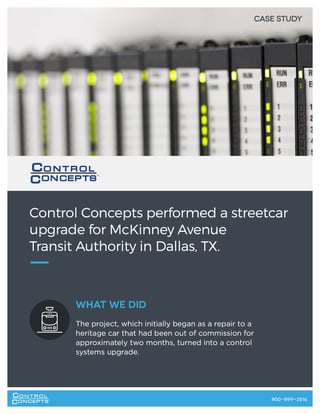 Struggling with outdated equipment?
When a historic streetcar operated by Dallas's McKinney Avenue Transit Authority (MATA) developed a circuit board failure, replacement parts were unavailable. With only five streetcars in commission in uptown Dallas, and the oldest dating back to 1909, extensive downtime wasn't an option for MATA.
Identifying the REAL problem
You'll learn how Control Concepts managed to identify the real problem facing MATA, by:
Tracking unusual repairs and modifications made during the historic streetcar's lifetime;
Replacing obsolete parts with new, upgraded control options; and
Devising creative methods of repair to keep the vehicle in operation.
Putting the streetcar back on its route
By conducting repairs using original parts, upgrading the outdated controls and integrating new parts where needed, Control Concepts overcame a number of logistical challenges to get the streetcar operational. The case study outlines these in detail, and provides an overview of the many benefits realized by MATA as a result of the work.
Download now and learn how a limited upgrade turned this celebrated vehicle into MATA's most reliable streetcar, and how upgrading your control system can work for your equipment.
Fill out the form below to get your free copy